BOBI GRANDE S UK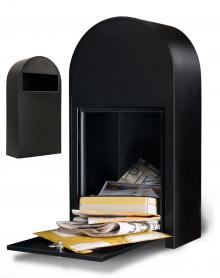 Letterbox especially designed for the UK to be fixed inside a door. It features a front loading letter slot and can be fixed to the inside of a door or a gate behind an existing letter plate. Due to the lockable access door on the back the post is securely held. Easy removal of contents via drop down door. Letter flap not included.
Measurements
• Width 32 cm
• Height 60 cm
• Depth 15 cm
• Letterslot 10 x 26 cm
Material and colour
• Zincplated steel, polyester coated. Colour black RAL 9005, slightly structured finish
Lock and keys
• BOBI Cylinderlock. 3 keys included.
Additional accessories
• Extra keys
• BOBI Keyless lock - the standard lock can easily be changed
Installation
• Measurements